There seems to be only one Olympic athlete who matters, at least in the minds of the American media. In the last week, I have seen or heard no less than a dozen interview/articles on Michael Phelps. Here he is in Vanity Fair, shot by Bruce Weber, and in the New York Times Magazine, shot by Ryan McGinley.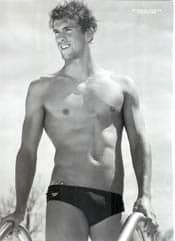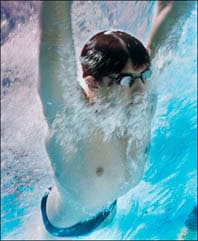 You probably couldn't find more typical shots from each of the photographers; Weber, as usual, takes a worshipful look at an Abercrombie-style collegiate hero, while McGinley's lens seems to magically transform the muscular Phelps into one of the hairless waifs he chooses to shoot most of the time.
Tyler Green at Modern Art Notes takes an interesting look at the ubiquity of McGinley, skewering his portfolio of swimmers in last Sunday's NYT Magazine. He makes some good points. It will be interesting to see how an artist lauded so profusely at such a young age handles the evolution of his career. Likewise, if Phelps fails to live up to the hype (which I sincerely hope doesn't happen), is the hype to blame?