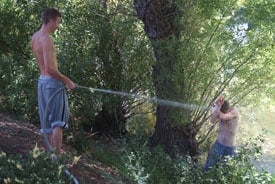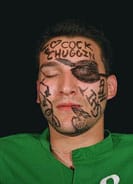 Ever since greg.org pointed out Choire Sicha's Artforum top ten list I've been a bit obsessed with the photography of Craig Doty. It's the kind of dark, homoerotic, narrative, adolescent poetry with just enough of a sick sexual twist to eat away at all the lingering high school fantasy and paranoia left from my childhood in the suburbs of Chicago.
Doty: "In my photographs I create my own fantasy world where these young men run rampant. The photographs revolve around central themes of masculinity, rebellious exploration, and youth ritual. In most of my work there appears to be little or no consequence for the actions taking place, hinting at a world in which conflict is self-generated and these young men have free reign of whatever they want to do."
While certain aspects of Doty's work draw comparisons to artists like Anthony Goicolea, Michael Meads, and Ryan McGinley, he captures the strangeness of teenage suburban rituals with an eerie sexual precision.
He's repped by the 1r Gallery in Chicago.