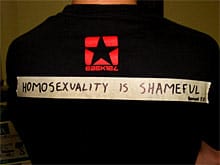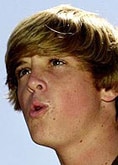 Poway Unified School District in San Diego has found itself in the midst of a battle over freedom of expression and tolerance. One day after a campus group had participated in "Day of Silence", a nationwide show of tolerance for gays and lesbians, Tyler Chase Harper, pictured above, decided to wear a shirt with a piece of masking tape on it with the words "Homosexuality is Shameful" scrawled in black marker.
According to the article other pieces of tape said "Be Ashamed" and "Our School Embraced What God has Condemned".
This story just eats at me. Not only was I miserable in grade school and high school because I had no sense of sexual identity and no idea what "gay" really was, just that I was different, I had thought things were changing. Apparently they're not so much in San Diego.
Even more sickening is what the kid's lawyer says is the reasoning behind the shirt, that by wearing the shirt he is warning people of something dangerous. "He comes not with a heart of hate, but a heart of compassion," lawyer Robert Tyler said.
Tell that to Mathew Shepard.