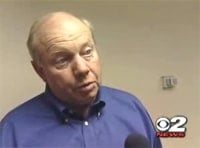 Wow. Now this is great to see. Real dialog between a bigot and those affected by his actions.
Larry Miller, the Utah theater owner who pulled Brokeback Mountain from his theaters last January, met with about 30 gay and lesbian students at the University of Utah who enlightened him about what it's like to be gay. According to the Salt Lake Tribune, students told Miller about the difficulties of coming out and the fear of being physically harmed. The discussion appeared to change Miller's previously unwavering stance on his decision to pull the movie.
Said Miller: "Now, I understand how something I said inadvertently made them feel demeaned as individuals. Maybe their well-being trumps my beliefs, my rights to express myself…In 2006, it's wrong that they have to live in that fear."
Students were very positive about the meeting. Charles Milne, coordinator of the university's LGBT Campus Resource Center: "I felt like he cared about what we had to say. I wouldn't say we changed his mind, but I think he did come away with ideas he had to process."
Imagine the strides that could be made if this kind of exchange happened more often.
Miller at the U.: Second thoughts about 'Brokeback'? [salt lake tribune]
Previously
Utah Theater Nixes Brokeback [tr]
Bigot Larry Miller Still in the Hot Seat [tr]
Larry Miller Proud He Made Money Off Bigotry