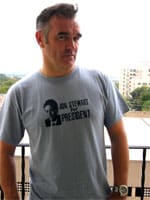 From Morrissey's website: "Bush has single-handedly turned the United States into the most neurotic and terror-obsessed country on the planet. For non-Americans, the United States is suddenly not a very nice place to visit because US immigration officers – under the rules of Bush – now conduct themselves with all the charm and unanswerable indignation of Hitler's SS. Please bring sanity and intelligence back to the United States. Don't forget to vote. Vote for John Kerry and get rid of George Bush!" (via stereogum)
It shouldn't be a surprise to anyone at this point that Towleroad wholeheartedly agrees with Morrissey.
I am surprised that there is nothing on Morrissey's site regarding DJ John Peel, who championed the The Smiths first single "Hand in Glove", in 1983, among many other singles. Peel died earlier this week, and once talked of The Smiths as being "one of the few bands capable of making me laugh out loud."
"Hand in Glove" was probably the first unabashedly gay song I ever heard — as a 17-year-old — just beginning to understand my sexuality. It had a profound effect on me, brilliantly rebellious, witty, and mournful at the same time.