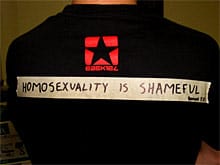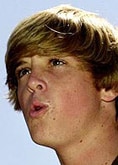 Many of you will remember my post about Tyler Chase Harper, and his lawsuit against the Poway Unified School District outside San Diego to allow him to wear clothing with messages like "Homosexuality is Shameful" and "Our School Embraced What God Has Condemned" scrawled on it in marker reacting to a group of students who had participated in "Day of Silence", a national show of tolerance for gays and lesbians.
At the time, Chase's lawyer said of the student, "He comes not with a heart of hate, but a heart of compassion."
Like all those people that went to the polls in the red states, right?
A lawsuit filed by Chase's lawyers seeks to invalidate the school district's policies on offensive speech. According to Sign on San Diego the legal papers also say "[Chase's] religion called him to warn gay people of the dangers of their behavior."
The school district had asked the judge to throw out the case.
U.S. District Judge John Houston has declined that motion, ruling that Chase can continue his federal case against the school district (which hinge's on the student's claims involving freedom of speech, religion, and the separation of church and state) but that he'll probably lose in the long run.
In yesterday's ruling, the U.S. District Court judge in San Diego said he couldn't throw out the suit now because he had to consider the district's motion in the light most favorable to Chase and his lawyers. But Houston declined to invalidate the district's policies, and in doing so said he didn't think Chase would win the case.
"The needs of the school to keep all their students safe" are more important than Chase's right to express his religious beliefs condemning homosexuality, the judge wrote.
Others probably will express themselves as Chase did, thus interfering with school activities and violating the rights of others, Houston said.
"School officials are in a better position, based upon their familiarity with the pulse and culture of the school setting, to decide whether restrictions on expression are appropriate."
Lawsuit over anti-gay shirt can proceed, judge decides [Sign on San Diego]
Ban on Anti-Gay Shirt is OK, Court Says [L.A. Times]
Fashion Statement [Towleroad]