Recently I've been haunted by an image from my childhood. During the election I kept looking at Karl Rove and flashing back to the horrifying face of Major Toht in Raiders of the Lost Ark.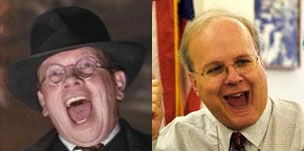 You remember him. He's the Nazi bent on stealing the Ark of the Covenant holding the stone tablets of the Ten Commandments away from Indy only to be

taught a gooey lesson — that attempting to use the power of the Almighty for one's selfish purposes results in a rather messy makeover.
So be careful how you use that Bible folks!