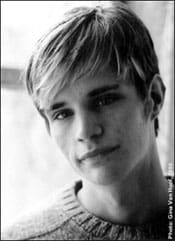 GLAAD and the Matthew Shepard Foundation have released a statement and an episode guide regarding tonight's 20/20 broadcast, in which Elizabeth Vargas "goes for broke" according to The New York Times, attempting to re-examine the killing of Matthew Shepard, and suggesting that the Laramie incident was not a hate crime but a robbery gone bad and his beating death the result of a days-long meth binge.
GLAAD's statement questions the credibility of many of Vargas' witnesses, saying that much of the testimony shown on 20/20 contradicts previous interviews done immediately following the murder, as well as those done by Moises Kaufman surrounding The Laramie Project.
While the 20/20 piece apparently claims that the beating rage was the effect of meth use, GLAAD argues that "20/20 does not put forward a single piece of solid evidence to back its assertion that drug use was the primary factor in MatthewShepard's murder. Their entire case is based on speculation…" The involvement of methamphetamine as a factor in this incident was explored in a 1999 award-winning piece in Harper's and was raised as part of Aaron McKinney's defense strategy according to GLAAD, and they ask why these previous examinations are not acknowledged.
Finally, Judy Shepard claims that her statements and the facts and comments of her attorney which were critical of 20/20's premise were completely ignored, and her soundbites make it seem as if she doesn't have a problem with 20/20's claims.
The Matthew Shepard Foundation promises a more complete statement following the broadcast, but the episode guide provided by GLAAD is worth reading in full. Considering Matthew Shepard's iconic status as a symbol against hate and intolerance, this program promises to be inflammatory.
[The Matthew Shepard Foundation] Episode Guide here.