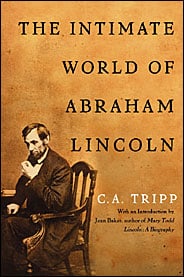 A new book, The Intimate World of Abraham Lincoln, concludes, as has long been proposed, that Abraham Lincoln was a gay man. The book is understandably being met by controversy with scholars that disagree, but is also being met with as much, if not more, agreement.
According to the NYT review, among author C.A. Tripp's assertions are that Lincoln had a "youthful affair" of four years with Joshua Speed, had a homosexual relationship with bodyguard David V. Derickson, shared a bed with a man named Billy Greene who told Lincoln's law partner that the president's thighs "were as perfect as a human being Could be," and "wooed" fellow lawyer Henry C. Whitney "to close intimacy and familiarity."
The book argues that it was Lincoln's homosexuality that led to his volatile relationship with Mary Todd Lincoln and describes an account by bodyguard Derickson's commanding officer: "Captain Derickson, in particular, advanced so far in the president's confidence and esteem that, in Mrs. Lincoln's absence, he frequently spent the night at his cottage, sleeping in the same bed with him and — it is said — making use of his Excellency's night-shirts!"
Finally, Larry Kramer is quoted regarding the book, which he says will change history. "It's a revolutionary book because the most important president in the history of the United States was gay. Now maybe they'll leave us alone, all those people in the party he founded."
It's more likely they'll exorcise the Lincoln bedroom.
"Finding Homosexual Threads in Lincoln's Legend" [NYT]