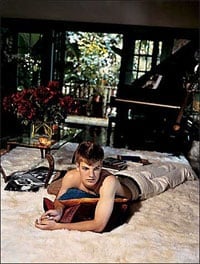 The NYT recently ran a portrait on Paul Jasmin, photographer, actor, Montana transplant — and the historic Hollywood complex where he lives the "bohemian" life. I met Jasmin two years ago and visited this apartment, which is well described. I didn't get any meatloaf with velveeta however.
Jasmin is the rare photographer who has managed to achieve so much yet slip (perhaps of his own will) under the radar. Actually, "Jazz" must have his story down pat because many of the quotes in this NYT article seem quite familiar. You know when your grandfather keeps repeating the same story over and over?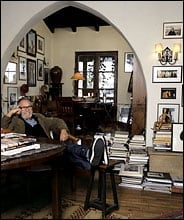 Jasmin told me: "L.A.'s like a roach motel. Once you get in, you don't get out. It's very hypnotic. I always can't wait to come back here. I don't relate to concrete. I love driving down Sunset Boulevard. I drive at the end of the day when the light is low, [looking at] the hills and the palm trees and the funny old frame houses. I'm a dreamer. A dreamer and a realist. I love things that are very real."
Jasmin's new book, Paul Jasmin: Lost Angeles is an ode to the dreamer and portraits of this city that swallows so many up.
"Portraitist of the Not-Yet Set" [NYT]