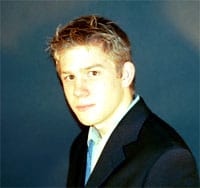 This is James Barnett. He was recently expelled from Trinity Christian Academy, a high school in Dallas, Texas, for being gay.
If that weren't enough, his principal outed him to his parents after discovering that James ran a website devoted to helping young gay teens like himself who are questioning their sexuality deal with issues that might arise. Says James, "The site to me meant a great deal, as it had probably saved my life; it gave me people who were going through the same thing and we could talk. I could finally come out of my shell. So I created a free service that would give teens an outlet; stray away from drugs, suicide, alcoholism, etc."
James is enrolled at a public high school for the remainder of the year.
The full horror story is at DailyKos. (thanks Tait!)