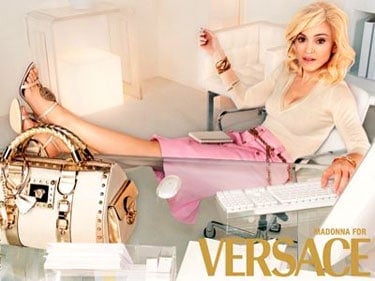 Miu over at A Socialite's Life presents the new Madonna ad from Versace, which I speculated about a couple months back. Larger version here.
In the new ad, Madonna (now in the role of power executive supervixen), gives the camera a look that can only be described as "interrupt me one more time and your ass is toast bitch," leaving little doubt as to how the scene must have looked just before Caresse Henry, her longtime personal manager, fled the Kabbalah Ciccone headquarters last month with her tail between her legs.
Also, notice the unabashed product placement. Are we selling gold Versace handbags or are we selling iMacs? Hard to say, but Apple must be thrilled.
ADDENDUM: There's talk of a fake here, however, both the bag and the skirt showed up in Versace's Spring '05 runway show so they're definitely part of the collection. You decide.
UPDATE: Another shot from the campaign. (via madonnalicious)