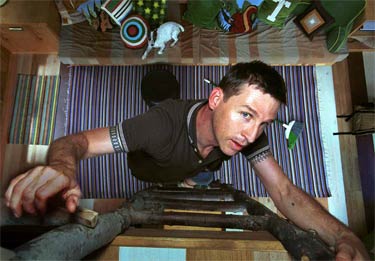 I've been following Tom Atwood's photography since writing an article about him a couple years ago. His current project which is forthcoming in a book called Urban Pride focuses on portraits of gay men at home, and there's a nice piece on him in the current issue of L.A.'s gay weekly Frontiers.
Says Atwood, "I wanted to do a documentary of the community that doesn't emphasize flesh and sex. Virtually every [gay] photography book is sort of soft porn. It's either naked men or men without their shirts on the beach or in the forest. It's boring at this point; it's been done so many times. There hasn't really been a documentary of the gay community that photographs people for who they are as people. I wanted to create something that would be a source of pride for the community and show that we're diverse people with all sorts of interests; we're not just people that are interested in sex."
You can view more of his photographs at TomAtwood.com.