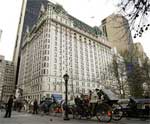 The Plaza Hotel, site of movie scenes, tourist photos, clandestine rendezvous, and New York's most legendary social event, Truman Capote's Black and White Ball, will be converted by April into condominiums, shops, and a much smaller hotel, going from over 800 rooms to a mere 150.
Capote held his ball there in 1966 and attracted important New Yorkers from socialites to artists. The late Henry Geldzahler, who was the first head of the Modern wing at the Metropolitan Museum of Art told me once that when he entered the ball alongside Andy Warhol, the famously inconfident Warhol turned to him and said, looking around at the well-to-do Manhattan elite, "We're the only nobodies here."
The ballroom where that event was held will remain intact. Its ghosts will continue to haunt every party promoter in New York.