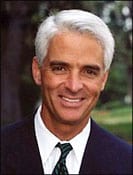 Florida Attorney General Charlie Crist, now a gubernatorial candidate, called in to a radio show in an attempt to dampen rumors that he is gay.
When the single 48-year-old was asked, "Are you a homo?" by the announcer, Crist responded, "No, man. No. I love women. I mean, they're wonderful," before going on to suggest that he's very blessed for having, uh, something special that helps him to attract the opposite sex.
The move is being called "a pre-emptive strike" to quell the gay rumors before the gubernatorial 2006 primary. Unfortunately for Crist, the move seems to be having the opposite effect.
AG Crist is Not Gay [DailyKos]