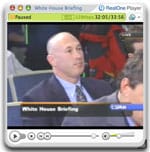 The story that won't stop unfolding continues to get a little murkier with news that Gannon was in the White House Press Room before Talon News even existed (looking a bit nervous at that).
"I'm still mystified by this story. I was rejected for a White House press pass at the start of the Bush administration, but someone with an alias, a tax evasion problem and Internet pictures where he posed like the "Barberini Faun" is credentialed to cover a White House that won a second term by mining homophobia and preaching family values?"
And Frank Rich chimes in:
"If Mr. Guckert, the author of Talon News exclusives like "Kerry Could Become First Gay President," is yet another link in the boundless network of homophobic Republican closet cases, that's not without interest. But it shouldn't distract from the real question – that is, the real news – of how this fake newsman might be connected to a White House propaganda machine that grows curiouser by the day."
And Sidney Blumenthal joins the fray:
"The experiment of inserting an agent directly into the White House press corps was a daring operation. Guckert's "legend," in the language of espionage, was that he was a news director, and his "false flag" was journalism. Until his exposure, this midnight cowboy in the garden of Bush and evil proved marginally useful for the White House. But the affair's longer-run implication is the Republican effort to sideline an independent press and undermine its legitimacy."
John Aravosis at AmericaBlog continues giving his undivided attention to this story and plops down this rather brilliant entry on The Hotline:
Excerpt:
"Well newsflash Washington. The GOP is the one that rose gay-bashing and gay-baiting and sex-baiting to an art, and JeffJimGuckertGannon willingly joined the family values parade in print and in passion. They're trying to ban condoms, pornography, AIDS education. They take children away from gays, and want to make our very lives a crime. GOP Senators compare us to kleptomaniacs, alcoholics, and man-dog sex. And they can't even handle a bronze breast on a statue.
And we're the ones picking a fight over sex.
Spare me your sanctimonious bullshit now that those of us in the gay community and on the left have finally – finally – started to fight fire with fire by simply holding you to the very standards you legislate over us. We are simply giving the GOP the sex-less utopia it's always wanted. How does it feel?"