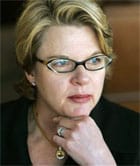 I briefly pointed to an article regarding Education Secretary Margaret Spellings and her criticism of the PBS show "Postcards from Buster" last month, but now that there's a bit of perspective on the issue (and PBS has pulled the episode) it's worth mentioning again, if only to quote this piece by Derrick Z. Jackson in the Boston Globe:
"So obvious is it what tail wags the new education secretary. Allegedly appointed to close the achievement gap and end what President Bush calls the soft bigotry of low expectations, the first loud barks from Margaret Spellings were not directed toward failing schools, incompetent superintendents, or even teachers unions. Spellings bared her teeth at lesbian mothers."
Essentially, "Spellings and Bush are hostage to a homophobia so wacky" that Spellings knew just what to do to impress her boss the first day on the job.