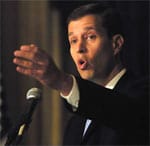 To out or not to out, and why not? Raw Story asks tough questions about Chris Crain as staffers charge that the chief editor for five of the largest gay newspapers in the country including The Washington Blade killed a story outing RNC Chairman Ken Mehlman. Additionally, Crain admitted to Raw Story that he turned down an opportunity to hear evidence of anti-gay Congressman Ed Schrock's public messages on a gay sex personals phone site because he didn't believe in invading someone's privacy.
Staffers, who spoke anonymously to Raw Story, said that Crain had confirmation that Mehlman was gay yet refused to go with the story. At issue is editorial consistency and policy. Crain wrote an editorial last July (regarding outing) that stated, "It is the antithesis of journalism to hide such hypocrisy when the facts can be clearly ascertained," yet according to Raw Story "maintains that such reporting should not intrude upon individual privacy."
Also in the mix is Crain's past involvement with Mehlman: "Crain–who was Mehlman's supervising editor for a Harvard public policy journal in law school and partnered with him in an organization in the early 1990's–says he has not 'credibly' confirmed Mehlman's sexuality. He denied that their previous involvement had any bearing on his editorial decisions." Whether or not this link has anything to do with the accusations now being made by staffers is unclear, yet it's clearly being questioned by those reading the story at sites like AmericaBlog.
The debate on outing public figures has been addressed most prominently recently not in gay media but in an article in GQ profiling Mike Rogers, the blogger who eventually took the Schrock tapes public. It's a hot button topic not ready to disappear anytime soon. Andy Humm, a reporter for Gay City News, told Raw Story, "We'd all like to have an unmolested private life, but these politicians, they're in favor of sodomy laws," he said. "They're for a president who was in favor of locking you up for things you did privately. It's not outing, it's just reporting. A good reporter is always looking for hypocrisy."
So, what evidence is required to ascertain that a politician is gay? A phone tape? A second-hand sighting at a gay bar? The ownership of m4m escort domain names? Are there any rules, and what are they? And do the individual privacy rights of a few hypocrites trump the dispensation of information that might directly affect the rights of millions of gays and lesbians to live as more than second class citizens?
Staff: Editor of Washington gay paper thwarted story outing RNC chair Mehlman; Editor asserts he was offered Schrock tapes [raw story]
Related
GQ on Outing Gay Republicans [tr]
The Blade's Chris Crain Catches Some Heat [the dooryard]
Largest Gay Paper Accused of Hypocrisy [americablog]