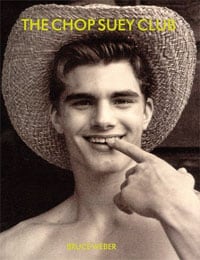 Today in the Michael Jackson trial items were presented that were found in a box at the foot of Michael Jackson's bed:
"Santa Barbara County sheriff's Sgt. Steve Robel showed items seized from Neverland during a Nov. 18, 2003, search, including a sex magazine called Teenage with a woman on the cover, a black-and-white image of a nude woman and a book called The Chop Suey Club by photographer Bruce Weber."
The relevance of the items was immediately attacked by the defense attorney Sanger, who seemed to understand the eroticism of young men in straw hats.
"Sanger said the black-and-white photo is a collector's item called 'The Glory of de Dienes Women,' and he asked Robel if the "The Chop Suey Club," featuring a young man in a straw hat on the cover, was seized because investigators believed it to be sexual in nature. Robel said yes.
Sanger said the book was sent to Jackson unsolicited by Weber, who has photographed the Jackson 5 and other famous people. Asked if he was aware that it had a photo of Jackson friend Elizabeth Taylor, Robel said he was not."
Now it's unclear whether Jackson had the book at the photo of his bed because he liked to keep Elizabeth Taylor nearby, or if he liked to keep the boy in the straw hat nearby, but perhaps someone could have drawn some other conclusion if they had gone to Amazon and read a few reviews of The Chop Suey Club, including this one by Robert Byrd (and it's unclear as well whether we're bringing a Senator into all this, but it's doubtful):
"I am constantly amazed that Weber, a maverick in the world of advertising, can convince his young male subjects (who more often than not claim to be heterosexual) to remove their clothes and portray very homoerotic situations and poses."
I hear it always helps to have a few cases of Jesus Juice around.