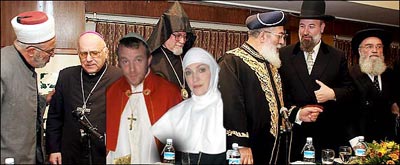 In an unprecedented move, religious leaders of Christianity, Judaism and Islam have bonded together to denounce homosexuality and specifically, the WorldPride Festival that planners are hoping to hold in Jerusalem in August.
"They are creating a deep and terrible sorrow that is unbearable. It hurts all of the religions. We are all against it," said Shlomo Amar, Israel's Sephardic chief rabbi. Abdel Aziz Bukhari, a Sufi sheik, added "We can't permit anybody to come and make the Holy City dirty. This is very ugly and very nasty to have these people come to Jerusalem." It was then that Madonna and Guy Ritchie realized they were at the wrong party.
Kidding aside, the real news behind this is deplorable.