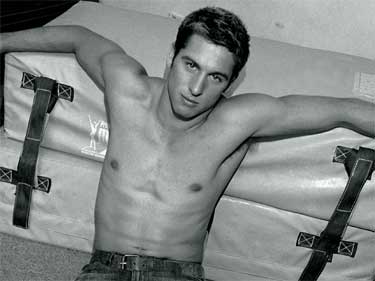 Polls are notoriously tricky to glean real meaning from, and the A new poll published in Sports Illustrated about gays in sports that is all over the news right now is a prime example.
There appear to be plenty of contradictory numbers in the poll. For instance, 86% of respondents say that it is OK for male athletes to participate in sports even if they are openly gay, yet in another question 23% say that having an openly gay athlete hurts the entire sport. Huh?
I never put much faith in polls. And I still tend to think that the image most Americans have of gay athletes is skewed; Carson Kressley in a pinstriped uniform saying he loves games where balls fly at his nose.
I think we're just going to need more athletes to come out of the closet before attitudes really evolve in a substantive way. On another note, the photo above is Graham Ackerman, an openly gay gymnast who last weekend won the national championship in the floor exercise at the 2005 Men's Collegiate Gymnastics Championships at West Point.
Related
Friday Sports Wire [tr]
The NFL's Limited Vocabulary [tr]