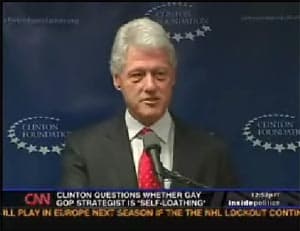 Bill Clinton picked up a hot potato yesterday when he reacted to a report that recently gay-married G.O.P. consultant Arthur Finkelstein is raising money for the "Stop Her Now" website aimed at derailing Hillary's potential run for President in 2008.
"He went to Massachusetts and married his longtime male partner and then he comes back here and announces this. I thought, one of two things. Either this guy believes his party is not serious, and is totally Machiavellian in his position, or…there's some sort of self-loathing. I was more sad for him."
Aravosis at AmericaBlog calls him out on the DOMA baggage.