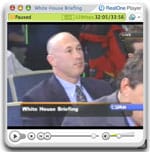 Reps. Slaughter and Conyers have sent a tough letter to White House press secretary Scott McClellan inquiring about Jeff Gannon's activities at the White House on more than 200 occasions, more than two dozen of which were when there were no scheduled briefings. Gannon also failed to check out with the Secret Service 14 times.
"These records appear to confirm our concern that Gannon was treated in a manner that deviated from standard White House procedure for determining who receives press credentials, and to what degree members of the press and public are granted access to the White House complex. In fact, these entry and exit records only raise more questions, as your office has issued conflicting statements about his activities and apparently abused the press pass policy to avoid a full-fledged background investigation and allow Republican propaganda to be disseminated through a counterfeit media operation and a fake reporter."
Read the entire letter at Raw Story.
Related
Jeff Gannon Press Room Records Revealed [tr]