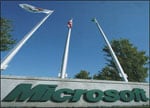 Towleroad has received a copy of a letter drafted by Microsoft employees to top executives at the corporation regarding its recent withdrawal of support for an anti-discrimination bill in Washington state.
My source reports that there are already more than 900 signatures attached to this letter which offers three "suggestions" to company leaders: Reinstate support for House Bill 1515 and anti-discrimination legislation, investigate whether pastor Ken Hutcherson influenced the company's decision to withdraw its endorsement, and make a financial donation to an anti-discrimination group in Washington state.
UPDATE: Letter is on company intranet, reportedly still collecting signatures, now totaling more than 1,100… Further reports suggest the letter may still be undergoing revision and is to be given to execs this evening…developing…
Here's the text of the draft to senior Microsoft executives:
"I'm proud of Microsoft's values and our track record on diversity. I
was surprised and disheartened to learn that we decided not to support
House bill 1515 after supporting this bill last year. Our values
clearly state that discrimination based on sexual orientation is
unacceptable. Withdrawing our support for this bill is not a neutral
statement—it sends a clear message to the world that Microsoft will
not stand up for our stated values.
Steve Ballmer's recent email to the company asks, "When should a
public company take a position on a broader social issue?" The fact
is that Microsoft, like many other companies, has already taken a
position on discrimination. We have a responsibility as a leading
corporation to support legislation related to this fundamental
workplace issue. I believe it is a mistake to dismiss discrimination
as a social issue; it is a civil rights issue.
From a PR perspective, it is embarrassing that last Monday we launched
our largest marketing campaign ever and on Friday we received a black
eye in the New York Times for withdrawing support for this bill.
Companies such as Boeing, Coors, QWEST—and even Nike, a company with a
poor human rights record due to sweatshop labor, supported this bill.
I can only imagine that this further damages our already embattled
brand.
What can we do to remedy the damage we've done to civil rights in
Washington and to reaffirm our commitment to living up to our values?
Here are three suggestions:
1. Reinstate support for HB1515 and other anti-discrimination legislation.
2. Investigate whether Brad Smith's decision was influenced by Pastor
Ken Hutcherson. The evidence outlined in The Stranger article
indicates this was a factor.
3. Make a financial donation to an anti-discrimination group in WA.
I hope that our senior leadership has the courage to take action that
shows Microsoft stands firmly united against discrimination."
[end]
Related
Microsoft Secretly Withdraws Endorsement of Gay Rights Bill [tr]
Steve Ballmer Issues MS a Memo on Gay Rights Bill [tr]
Microsoft Wire [tr]