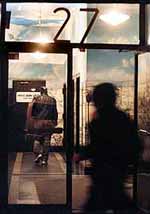 New York magazine exposes how AIDS politics within the medical community and the tragic crystal meth problem within the gay community caused a hysteria around Patient Zero, a man determined to have a superbug that caused him to develop full-blown AIDS within months of transmission.
"After the frenzy died down, however, the new epidemic began to look a lot less fearsome. In fact, on closer examination, almost everything about this case seems murky. An investigation by the Department of Health turned up no evidence that the New York man passed the virus to anybody. And on March 29, the department put out a press release saying that the patient was responding well to his medications."
This is a sobering article that conveys not only deeply troubling things about the politics and marketing of medicine, but also illustrates how quickly the spread of information can create widespread panic. I do think, however, that the wake-up call this false superbug story gave to the gay community was an important one, and I hope that efforts to quell the epidemic of unsafe sex and crystal meth destroying so many lives does not fall by the wayside now that an "all clear" has been sounded.
The Invention of Patient Zero [new york metro]
(via sploid)