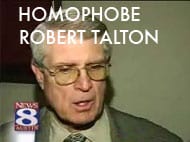 I wrote about this briefly last night but I'm bringing it up again. The Texas House passed a bill by 135-6 (!) that would ban gays in that state from becoming foster parents and it now heads to the senate. It's a disgusting, backwards, ignorant piece of legislation.
Republican Rep. Robert Talton, who introduced the bill, said, "It is our responsibility to make sure that we protect our most vulnerable children, and I don't think we are doing that if we allow a foster parent that is homosexual or bisexual."
I just watched a woman on CNN say that foster children would be better off taken from caring foster parents' homes and put in orphanages. She also made the absurd claim that children are 11 times more likely to be abused when in the care of homosexuals. The rhetoric being thrown around in Texas is disgusting and makes my stomach churn.
"If the bill passes, it would close more than 1,500 homes to more than 2,000 children. The cost to the state would be $16 million."
One of their main arguments is that homosexuality is a taught behavior and children who grow up in foster homes with same-sex parents will most likely turn out homosexual. I love hate hearing this laughable argument and I'd love to know how many gay adults grew up under the care of heterosexual parents and (shock) weren't turned straight under their influence.
As a gay man who was adopted, watching these desperate foster parents in Texas fighting for the right to keep their children—who will be taken from them if this law is passed—is maddening and heartbreaking. If you live in Texas, call and fax your Rep.