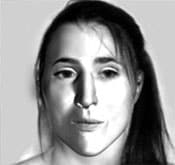 Those who read this blog regularly will know that I have a fond appreciation for Provincetown. I lived there for a couple of years and came to know much of its history, its legends, and its notorious past as a hideaway for criminals, vagabonds, and misfits.
Cape Cod has its history of unsolved murders too, one of which has now been given a face through digital reconstruction. "The Lady in the Dunes" has never been identified since her bludgeoned body was found by a woman walking her dog at Race Point Beach on a summer's day in July of 1974.
A police officer who was a rookie then and has been following the case for 30 years is hoping the new image will breathe life into this unsolved murder. The officer describes Ptown as "wilder then" than it is now. "Lots of drugs, lots of bikers. It was kind of a violent period."
From my experience, it's rarely dull in that pretty little town.
Technology could help solve 1974 Provincetown murder [cape cod times]