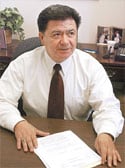 A bill introduced in the Colorado legislature that would make it illegal to discriminate in the workplace based on sexual orientation has inspired fierce debate among lawmakers there, including words from one Senator whose choice to speak up has inspired a wellspring of attention. Senator Abel Tapia, whom the Rocky Mountain News reports "rarely speaks on other lawmakers' bills," felt compelled to join the debate when another Senator called homosexuality an "abomination".
You see, Tapia has a gay son. And he couldn't stand by and let this happen.
From the Rocky Mountain News:
"I have three children and I actually did not have any sensitivity to homosexuals," Tapia began. "But one of my three children, my second son, is a homosexual."
Tapia's colleagues sat stunned as the lawmaker described his son coming out to him a decade ago.
"I even asked him, 'Do you really want to do this?' " Tapia said. "Do you have a choice, because that's a terrible choice to make. People are going to shun you.
"But I've grown to love him even more because of what he has had to go through," Tapia said, repeating words as he struggled to keep from crying.
"So don't be talking about abomination because I don't believe that's true."
[end]
Tapia's words have inspired letters to his office from across the country.
These are the kind of words all politicians with gay family members should be brave enough to stand up and say. Unfortunately, we have a Vice President who has shown the world over the past election season that homosexuality within one's family is something shameful, not to be spoken about. And certainly not something that should be brought up in the context of political debate. This country needs more politicians like Tapia brave enough to stand up and do the right thing.
The bill is on Governer Bill Owens' desk. He has until June 8 to sign, veto, or allow it to become law without his signature.
Tapia's gay son speech praised around world [rocky mountain news]