I often hear people toy with the idea of dumping their day jobs for pursuits that take them closer to the interests that drive their souls, but few have the balls to actually do it. It can be difficult, and it can be scary. Those who do make the leap are rewarded with the satisfaction that they're doing exactly what they want to do, working for themselves, and enjoying it despite the challenges.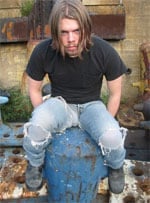 Michael Alago quit his twenty-year career as a producer and talent scout in the music industry in 2002 to pursue his interest in photography and recently self-published a monograph titled Rough Gods. It's a collection of images of tough characters that includes street hustlers, porn stars (not your Bel Ami variety), punks, and tattooed daddies, coupled with a range of still lifes that are meant to offset the very direct portraits.
While many gay photographers tend to focus on plucked, shaved, and pampered young twinks as their male subjects, Alago's worship is directed at the hairy, muscular, mature, and inked examples.
Michael recently gave me a few basics on the gods in his Pantheon: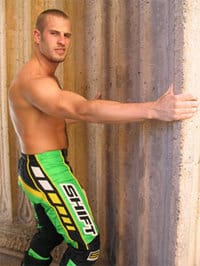 Gay photographers are often drawn to the more boyish aspects of men. What caused you to gravitate toward "rougher" subjects?
I've always been drawn to men with tattoos and extremely muscular bodies…they make my brain tingle…opposites attract I guess…there's something incredibly raw and handsome and beautiful in all that masculinity.
Where do you find your subjects? Are they friends, acquaintances?
I find my models online and on the streets. the men are usually happy with their images so they tell their friends and the list just keeps on growing..it's kinda fabulous..I am so grateful for the support.
The book isn't all men. On facing pages you feature still lifes of various objects…what's your thinking behind that?
I love the juxtaposition of a still life and a male image. They play off each other quite elegantly. I love the masculine/feminine aspect of the images and sometimes [the combination creates] a playfulness that just makes it work.
How did you decide to give up your job in the music industry and focus on photography? Was it a tough decision?
After 22 years in any business…enough can be enough. I had an incredible career and worked with extraordinary artists from Metallica to Nina Simone to PiL to Alan Vega and the list goes on. I made some landmark records but ceased to have fun anymore. The direction of the biz changed and i just wanted out. So one day i gave my notice and off I went…into the world of photography. I also shot Polaroids and collected fine art images for years. I decided I wanted to be part of that world so I started shooting seriously and got a book together and put it out myself…small wonder but gettin' great press and loving it.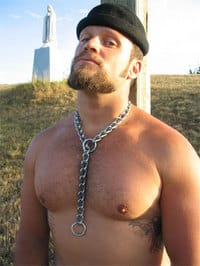 Explain the story behind one of your photos.
I really love this session that i did with Joe in a cemetery in Provincetown. The day was really beautiful, the cemetery had real vintage headstones and the mood felt just right. Joe and I talked alot about the images I wanted. Some images have a vintage longshoreman look..felt very Rimbaud, like something out of "the drunken boat" or one of his poems. His eyes are really beautiful and he is exactly the kind of man I love to shoot. Strong, tattooed, and delicious to the eye.
A gallery exhibition of Rough Gods will be on display at the Leslie Lohman Foundation from May 17th to June 25th. Opening May 17th 6—9 pm.