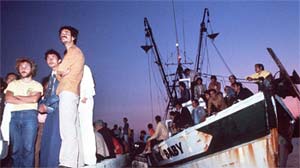 I hadn't read before about the gay population on the Mariel boatlift, which brought 125,000 Cubans fleeing their country to Key West in a mass exodus in 1980.
The Miami Herald takes a look at the plight of gays and lesbians in Cuba in the 60's and 70's, and where some of the gay survivors of that flight by water are today. Many heterosexuals at that time tried to pass themselves off as gay in order to get permission to get on the boat. Castro couldn't get rid of the gays fast enough.
"From the early stages of the massive exodus, the regime described homosexuals as part of the "scum" that needed to be discarded so the socialist society could be purified. To flaunt homosexuality — or to fake it — before the authorities was a sure way to obtain an exit permit."
In Miami, they often found they suffered doubly, stigmatized as immigrants and homosexuals.