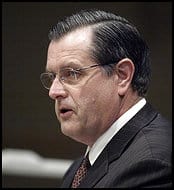 Why hasn't Spokane's Mayor James West stepped down yet? He's taken a leave of absence and now is complaining that he was "brutally outed".
West's record: As Mayor of Spokane, West opposed domestic partner benefits for City Hall workers in 2003 yet the City Council voted for the measure with enough of a majority to withstand a mayoral veto. As Senate majority leader, he held up a gay rights bill in committee, where it died. West voted for the Defense of Marriage Act, defining marriage as between a man and a woman, and opposed gay rights bills in '85 and '87.
Yet this alleged male child molester and civic sugar daddy to boys he meets in gay chat rooms says his sexuality and private activities are off-limits.
Via AP: "In an e-mail sent to nearly 140 people affiliated with a race relations task force, West wrote that the group is responsible for making Spokane a community where 'harassment, intimidation, discrimination' are unacceptable. 'Does that include people who have an internal struggle with who they are sexually and are searching for a way to come out … ?' wrote West, who is co-chairman of the task force. 'Do others who desire to be out but are having similar struggles now live in greater fear because of a brutal outing?'"
The hypocrisy in this man's actions is amazing. What's even more amazing is that he is still in public office.