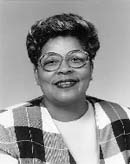 Via AmericaBlog and Molly Ivins come the words of Senfronia Thompson, a state representative from Houston, speaking out against the Texas legislature's recent addition of an anti-gay provision to the state constitution. This is just an excerpt of this courageous woman's words — more can be read (and her whole speech is worth reading) here:
"Members, I'm a Christian and a proud Christian. I read the good book and do my best to live by it. I have never read the verse where it says, 'Gay people can't marry.' I have never read the verse where it says, 'Thou shalt discriminate against those not like me.' I have never read the verse where it says, 'Let's base our public policy on hate and fear and discrimination.' Christianity to me is love and hope and faith and forgiveness — not hate and discrimination.
I have served in this body a lot of years, and I have seen a lot of promises broken… So… now that blacks and women have equal rights, you turn your hatred to homosexuals, and you still use your misguided reading of the Bible to justify your hatred. You want to pass this ridiculous amendment so you can go home and brag — brag about what? Declare that you saved the people of Texas from what?"
More…
Senfronia Thompson will be receiving the Towleroad Medal of Honor next week, along with Abel Tapia.
You can thank Senfronia Thompson here.