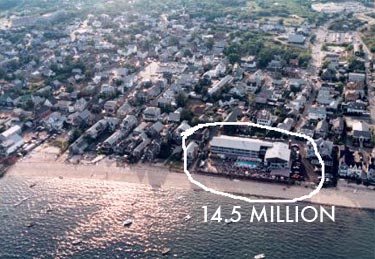 From Provincetown comes word that the legendary Boatslip Beach Club, a late afternoon drinking institution (and former workplace of this writer way back when) is up for sale for $14.5 million and is slated for residential development. Built on a prime piece of land on Provincetown's waterfront, the 'Slip has been home for years to a June—October indoor/outdoor tea dance on its enormous wooden deck.
Those of you who can remember back to 1992 and 1993 might remember me carrying chaise lounges around the deck there for tips, or whipping up a mudslide from behind the bar. Ah, summer jobs!
Losing this piece of property as a commercial enterprise marks the end of an era for gay summer social life in Ptown. Who will pick up the slack? The times they are a' changing.
Related
Monumental Sunrise [tr]
4:33 at Herring Cove Beach [tr]
Also
The Friendship That Never Went Away [tr]
The End of an Era in Times Square [tr]
photo: Towleroad