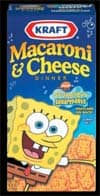 Kraft Foods' sponsorship of the 2006 Gay Games in Chicago is under siege by the American Family Association. Towleroad has received an email sent by AFA's Chairman Donald Wildmon asking its members to call Kraft and urge them to withdraw their support of the Gay Games.
"Kraft has authorized its company logo to be placed on the gay games official website as a major corporate sponsor," the email reads. "The gay games are supported and endorsed by dozens of homosexual activist groups and organizations, including homosexual magazines and television outlets. Tell Kraft to drop their corporate sponsorship of the 2006 Gay Games in Chicago."
In a statement to Outsports, AFA director of media and public relations Kathryn Hooks said, "We are not calling for an official boycott. We believe many of Kraft's customers would be offended to know a portion of their finances from Kraft purchases is being used to support something they oppose, and we also believe Kraft corporation would want to hear from its customers."
Towleroad believes the Kraft switchboard is tired of hearing from the homophobic creeps at American Family. Their toll-free number is 800-323-0768. Tell them you support their sponsorship of the Gay Games. After the Microsoft episode there's little doubt that corporations are vulnerable to these bigots and need to hear from us.