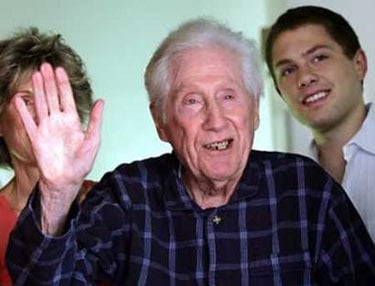 So what else can be said about something the news networks will be bludgeoning to death for the next week or so? I think Deep Throat looks really happy his secret is finally out, and I'm happy for him.
But did anyone else perk up watching CNN today when his grandson Nick Jones appeared in the doorway? It's nice to know that while Mr. Felt has been quiet for all these years he's been contributing generously to the gene pool. And the first person to make a deep throat joke will be immediately impeached.
UPDATE: After some searching I've located and screencapped the towel pics from Jeanne Moos' report on Deep Throat. Actually, in the video you can't really tell that he's wearing anything down under at all!