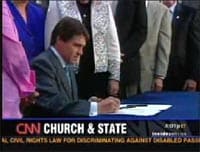 Texas Governor Rick Perry continued to destroy the line between church and state at an Evangelical Christian school Sunday, signing legislation which included the gratuitous endorsement of a resolution in support of a constitutional amendment to ban gay marriage.
Said Perry, "We may be on the grounds of a Christian school today but our message speaks to all who believe in standing up for the unborn, all who cherish strong traditional families."
Perry was immediately "applauded" by the Family Research Council, whose President issued a statement: "I am also pleased Gov. Rick Perry chose Calvary Christian Academy to sign this important piece of legislation. He recognizes that people of faith are not excluded from participating in the political and civic process. There is nothing wrong with signing legislation at a Christian school. People of faith are not backing up, we are not giving up, we are here to stay. I want to thank Gov. Rick Perry for standing up for people of faith today."
How soon until we start swearing in our government officials at church services?
Video at Crooks and Liars.