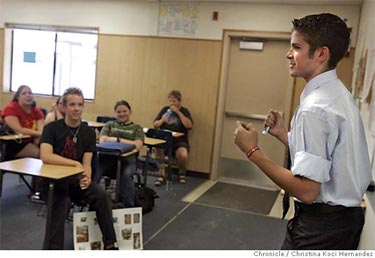 The New York Times reports today on the battle over homosexuality in schools, a topic I've reported on extensively on Towleroad — the struggle over the formation of gay-straight alliances, the posting of anti-discrimination materials on school property, the ability of students to express themselves through "pride" t-shirts, and educating about homosexuality in sex education classes.
Paper: "The growing conflicts are centering on three issues: whether classrooms are an appropriate venue to explore issues of homosexuality, whether schools should lend sanction to extracurricular activities in which gay culture is a focus and whether textbooks that acknowledge homosexual relationships are suitable for younger children."
Just today, The St. Petersburg Times reports that Hillsborough County commissioners in Florida are demanding that the school remove Gay and Lesbian Pride month exhibits from public libraries after patrons complained, even though the display was not in a children's area. Only one Commissioner spoke out against the removal: "I would hope this board would not use this dais to promote discrimination. I think it would be a terrible thing to put something like this on the agenda."
Also reported today, Tracy, California braces as the extremist gang from Rev. Fred Phelps' Westboro Baptist Church continues to travel to towns across the country with their "God Hates Fags" message, targeting Tracy next because the school there allowed the formation of a gay-straight alliance. The alliance was formed by Justin Daley (pictured above), who came out as a sophomore. The conservatives know that their enemy lies in these emboldened youths and that time is not on their side. "This is something I believe in with all my heart," he told the San Francisco Chronicle.
Still, there is some hope. Also reported today, two gay students at Poway High School near San Diego were awarded $300,000 by a jury in a harassment suit:
"Jurors found that Ramelli and Donovan were both harassed ('verbally threatened, and Ramelli was spit upon, punched and kicked and had his car vandalized') with the knowledge of school officials, that the officials did not take timely corrective action and that the two were harmed by the situation."
As you may remember, this is the same school district where Chase Harper demanded he be able to wear a T-shirt emblazoned with the expressions "Homosexuality is Shameful", "Be Ashamed", and "Our School Embraced What God has Condemned" a day after students participated in the tolerance-oriented Day of Silence.
Every day there are more and more articles like these. This fight is just beginning. Be aware and be sure to support gay youth programs like GLSEN that work in support of gay and lesbian students and student organizations. This is so important. It is the future, and time is on our side. Don't let these conservative religious zealots screw us over one more time.
Gay Rights Battlefield Spreads to Public Schools [nyt]
Library No Place for Gay Pride Display, Storm Says [st. petersburg times]
Tracy's lesson in gay rights [sf chronicle]
Related
School Daze [tr]