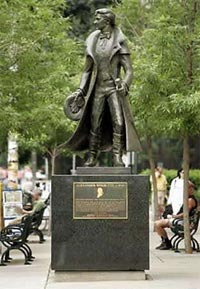 Some uptight folks are up in arms about a recently unveiled statue of local hero Alexander Wood erected at one end of Toronto's gay village, as well as the plaque explaining Wood's significance.
Though it's uncertain whether or not Wood was gay, he owned a large plot of land where the statue stands and gained his notoriety from his participation in the investigation of a rape that took place there in the early 19th century.
A woman had been raped and suspects rounded up. Wood, then a magistrate, demanded that the suspects drop their pants so that he could inspect them for a scratch the woman said she had made during the rape. This unconventional form of investigation caused many to brand Wood a homosexual "molly" and drive him out of town, though he has since been regarded as a hero by many others.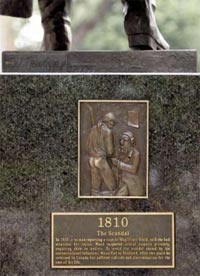 The bronze plaque at the base of the statue "depicting a man's rear-end with his pants around his knees, and Wood's outstretched hand in mid-examination" is causing most of the fuss. Some would have it removed. Others touch it for good luck.
You can see in this photo that the ass has been shined up by all the people wanting to finger it. I have to agree that if folks don't bother to take the time to read it (and there are far too many ignoramuses like that these days) they might think something far naughtier was happening. But art isn't created for ignoramuses now, is it?
I say rename the neighborhood "Mollywood" and leave the dapper young man alone.
Toronto Statue of Gay Hero Receives Monumental Flak [reuters]