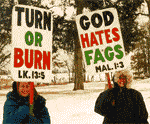 A kid sent to a Tennessee-based religious organization's camp for gay kids has been thrust into the spotlight by posting the camp's rules, which amount to brainwashing, on his MySpace blog.
"Zach" writes, "Yeah, I was upset yesterday.. however I found an email about the rules and regulations of the program. My parents lied to me.. they told me (29th of May) that they didn't know what the rules were exactly, however, this email wasnt sent on the 26th of May. I see now why they 'didn't know what the rules were.' It's horrible.. they're posted below.. and I so worried. It's like boot camp… but worse. I obviously was not supposed to see this.. Seeing the bottom say "Parental Rules (not to be given to client)"
What is with these people…? Honestly.. how could you support a program like this? If I do come out straight I'll be so mentally unstable and depressed it wont matter.. I'll be back in therapy again. This is not good–"
The story has been picked up around the Internet on sites like Sploid and Janus Online, which comments, "Ex-gay programs, however misguided, are fine for consenting adults who for whatever reason think they want to change their sexual orientation (despite zero proof that it is even possible). This program is administered to minors against their will. It is forced indoctrination, including dehumanizing, degrading treatment."
While "Zach" has not posted since late May, there is an outpouring of support from commenters on his blog. It's also reassuring to see that the kid has a sense of his own oppression.
(thanks michael)