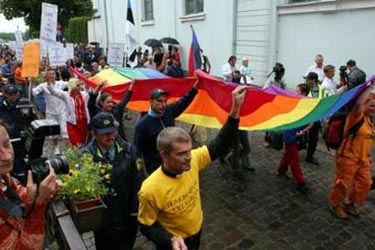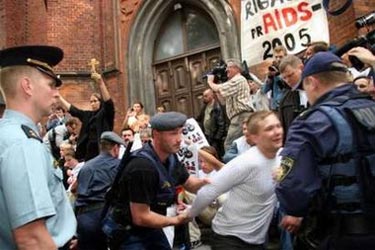 A pride parade in Latvia which had been banned by the government and then allowed to proceed by a Latvian court at the last minute took place over the weekend. The anti-gay activity was "hysteric" according to one participant interviewed by UK Gay News: "There were so many attacks, people were throwing eggs, people were using gaz [sic], they were trying to block the march. It was extremely, extremely homophobic. I don't think anybody in Europe saw anything like that."
Juris Lavrikovs describes a parade of 100 to 150 people met with force by protestors throwing eggs, some dressed in Nazi uniforms. According to Lavrikovs the police did a good job of protecting the participants and there were many arrests. Lavrikovs cites strong nationalist feeling and last week's homophobic statements by the government as cause for the violence at the parade.
Lavrikovs describes any unification of the Latvian gay community in his country as "extremely undeveloped.": "I would say that Latvia does not have a developed gay community or a group that would represent its interests. You cant compare to such countries as Czech Republic or even Poland."
This year Bucharest, Romania and Poland also saw protests surrounding Pride events while Spain saw massive protests in reaction to that country's stance on gay marriage and adoption.
Riga Pride: "A Sad, Sad Day. Society Is Sick" [uk gay news]
Protests Disrupt Latvia Pride [bbc]