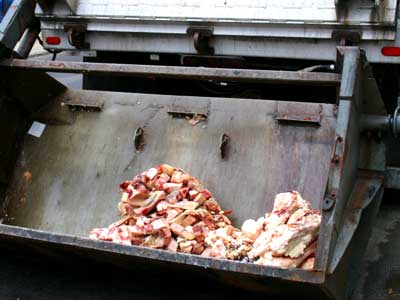 It's probably bad form to do two meat-related posts one right after the other but I saw something yesterday that made me want to become a vegetarian. All this week I've been running around to various spots in Brooklyn shooting photos on an assignment I was given for a magazine. One of my stops was at the famous Peter Luger steakhouse in Williamsburg, Brooklyn.
Now I love a good steak every now and then, but just as I was standing outside the entrance at the corner of the restaurant, a garbage truck pulled up, and in full view of the patrons gnawing their T-bones inside the place, began dumping garbagefuls of meat waste into the back of the truck. My stomach turned and I wasn't even chewing on anything. Pink Floyd's The Wall anyone?
Sorry, just needed to share.