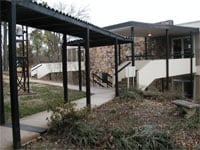 Zach's father has given an interview to the Christian Broadcasting Network regarding his decision to send Zach to the "Love in Action" camp to cure him of his homosexuality. You'll remember Zach posted the camp's rules on his MySpace blog and issued a journal entry that lamented the fact that his parents were sending him there. Zach's plea resonated throughout the blogosphere and was soon picked up by the MSM. The attention finally compelled his father, Joe Stark, to come forward.
Stark tells the CBN: "We felt very good about Zach coming here because… to let him see for himself the destructive lifestyle, what he has to face in the future, and to give him some options that society doesn't give him today. Knowing that your son… statistics say that by the age of 30 he could either have AIDS or be dead."
Uh, Mr. Stark, we could all be dead by the age of 30. Denying that you're gay doesn't stop you from getting AIDS, but education can. And denial is not education. Forcing one perspective on a child is not education. It's brainwashing.
Stark continues, "Zack has got a mind of his own, and that's a God-given gift. And Zack will have to make those choices when he is an adult as to what exactly he is going to do with his life. But until he turns 18 and he's an adult in the state of Tennessee, I'm responsible for him. And I'm going to see to it that he has all options available to him."
Doesn't "all options" mean the ability to talk to someone who can teach him to be proud of himself as he is, no matter what his sexuality? Apparently not.
A local radio host in Tennessee, Mike Fleming, chimed in with some words regarding the recent investigation of "Love in Action" over allegations of abuse and of supplying drug and alcohol counseling without a license: "The child services of the state dismissed the charges. And I frankly think that the bottom line of this is that homosexuals are afraid that this does work, and they have set out to destroy 'Love in Action.' I don't think there can be any doubt about that."
I love hearing this old yarn—that there are gangs of homosexuals out there, just waiting to recruit innocent youth into our fold. What a crock. There's so much ignorance in this world, it's alarming.
A former "Love in Action" client, Brandon Tidwell, provides a contrary view: "Rarely in life will you ever live that closed off from the world. It's very, I think, deceiving, or misleading, or creates a false hope for people, to help them to create change in that very isolated environment, and then move out into the real world and try to continue to…understand themselves in a whole different way."
Thank you, Brandon. Yes, this is a breeding ground for closeted hypocrites — those who leave environments like "Love in Action", whether it's a family or a church, or whatever organization — telling people that what they feel naturally is somehow wrong or unnatural. So destructive. So ignorant. And then, of course, some go on to political careers and adversely affect the lives of millions by using bigotry to affect legislation.
Stark concludes: "To me it's not what's right and what's left, it's what's right and what's wrong. My wife and I will stand by that 'till the day we die, as far as homosexuality is not in God's plan – it's wrong."
So somehow God made a mistake. Would you have the balls, Mr. Stark, to stand in front of God and tell him/her what the plan should be? If there's any mistake, it's in the Christian's use of scripture as a tool to inflict hate and intolerance upon others. Personally, I'm thanking God that Zach will be 18 one day so he'll be able to make his own decisions.
Joe Stark Interview [christian broadcasting network] (if you're one of those people who doesn't believe in giving web traffic to Christian sites that espouse ignorant values, then don't click this link)
Father Of Gay Teen Sent To 'Ex-Gay' Camp Comes Forward [365 gay]
Related
"Love in Action" [tr]