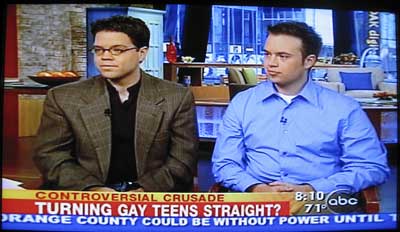 As the release of Zach Stark from the Love in Action facility in Tennessee draws near, media outlets are scrambling to cover Zach's story with shows on reparative therapy for homosexuals and whether or not sexual reorientation works.
This morning, Good Morning America aired a segment featuring Brandon Tidwell (left) and Gerard Wellman, both of whom attended Love in Action as adults, with varying results. Before the interview, Sawyer quoted a list of some of Love in Action's rules. "No physical contact, no campy behavior, no eye contact, no outside media, and a moral inventory of the worst thing that you did in this area." I really admired Sawyer in this interview when she arrived at the phrase "no campy behavior" and said "not sure what that means."
Tidwell claimed the program is damaging and causes self-hate.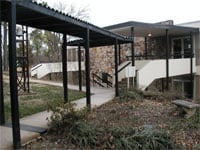 Tidwell: "They help you take apart your life and they help tear you down by shared moral inventories in the hopes that you'll release shame from your life which just doesn't happen…I think it's absolutely wrong and the faith community can no longer continue to embrace programs like this that promote exclusion when Christ promoted inclusion in his kingdom."
Sawyer then mentioned that the program director John Smid was dealing with problems of being attracted to men himself in 1984, and that he makes the claim of a 65% success rate.
Tidwell quickly shot that down. "They don't keep track of the people who leave the program. They have no claim to that number. Most of the people that I know who have been through it have actually come out and are reconciling with their faith in a very healthy and strong way."
Wellman now works for the program and believes in it, but I was shocked to see that he still admits an attraction to men: "It does not change attraction but it does change behavior…I have 'guardrails' for my behavior, not for my attraction, but for my behavior. So there are certain things that I don't want to do based on my faith and there's hundreds of thousands of people just like me that have these same guardrails." He went on later to say that "this program helps me align my actions with my faith." and that he'll tell any woman he dates or marries about his attraction to men.
Tidwell concluded, "It promotes self-hatred. It's inauthentic. I feel compassion for people who have to go through the program because I don't feel they can be authentic about their lives…I think there's a very narrow view that the Church continues to promote to say that people like Gerard [Wellman] and others can change and it puts out a false hope, a false authenticity for so many of us who want to embrace our faith and our homosexuality."
Sawyer then got into the specifics of the Love in Action program and the child's wishes, to which Wellman responded, "We respect the parent's responsibility to raise their child as they see fit. We don't have any kind of guards, no locked doors, The teens are not forced to be there."
Tidwell then laughed quietly and said, "But the child is still submissive to the parents wishes…It's not like you can just pick up and leave one day."
Zach's father Joe Stark was featured in a soundbyte from an earlier interview with the Christian Broadcasting Network.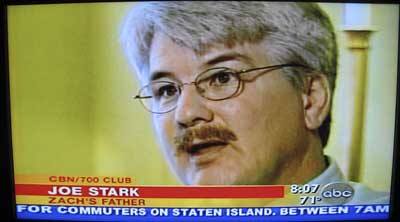 Stark: "It's not what's right and what is left. It's what is right and what is wrong. And my wife and I will stand by that until the day we die. As far as homosexuality is not in God's plan."
Congrats to Diane Sawyer and her producers on a great segment.
To most of us, what the American Medical Association and the American Psychiatric Association says makes complete sense: reparative therapy does not work. PFLAG (Parents, Families and Friends of Lesbians and Gays) released a statement this week warning of the emotional damage this kind of therapy can cause to young people who are told to change who they are: "As families who have faced these very issues in our own lives, we must give Zach and his family the space and privacy they need to deal with this situation. We also must insist, as allies and advocates for our gay, lesbian, bisexual and transgender (GLBT) loved ones, that 'reparative therapy' programs are not allowed to prosper unchallenged at the expense of our family members and friends."
Among the entries posted on Zach's MySpace blog was this one from May 29th that said "Well today, my mother, father, and I had a very long 'talk' in my room where they let me know I am to apply for a fundamentalist christian program for gays. They tell me that there is something psychologically wrong with me, and they "raised me wrong." I'm a big screw up to them, who isn't on the path God wants me to be on. So I'm sitting here in tears, joing the rest of those kids who complain about their parents on blogs – and I can't help it."
It will be interesting to see what has happened to Zach, if we are even allowed. Zach, still a minor, is reported to be released Friday, when a Tennessee gay rights group, Queer Action Coalition plans two peaceful protests at the Love in Action facility. Directions can be found here.
Paula Zahn covered the issue (apparently poorly) on her show last night on CNN.
Related
Zach's Father Speaks Out [tr]
"Love in Action" [tr]