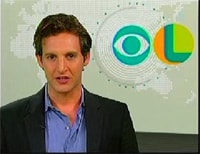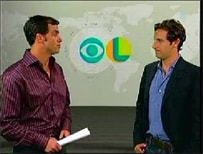 The Malcontent has a clip of the debut of LOGO's CBS News on LOGO. Their first segment covered the Hillsborough County "Pride in Exile" celebrations, the Lutheran gay debate, and the two female swans in Boston's Public Garden. I appreciate the format's lack of distracting bells and whistles. They're obviously taking it seriously.
LOGO was smart to snag Bellini, and the addition of correspondent Itay Hod isn't just adding some extra eye candy. Hod worked as a reporter on NY1 for a number of years before jumping to MSNBC to work as a producer for Ashleigh Banfield.
Of course, watching these two, you may wish that you were watching the Naked News and not LOGO, but I expect good things from them, even with their clothes on.