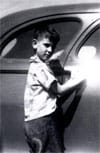 Worried that your child might be (gasp) homosexual?
Our favorite group of anti-gay bigots, Focus on the Family, has released a set of guidelines for parents so that they may judge whether or not they may want to prepare some electro-shock treatments for the kid, or perhaps wait a few years and send him to a brainwashing center.
The guidelines include this gem: "A susceptibility to be bullied by other boys, who may tease them unmercifully and call them 'queer,' 'fag' and 'gay.'"
Which we all know are words the bullies have probably learned from their closeted homosexual bigoted hypocritical fathers.
(via Crooks and Liars, thanks zach)