After the jump are some brief thoughts on the Six Feet Under finale. For those of you who don't want to read spoilers, don't click the jump. If you're reading this on a syndication feed, I'm sorry I can't do anything about the lack of a jump. Read no further.
I don't have a lot to say about last night's finale except that it contained some of the most brilliant 75 minutes of television I think I've ever seen. I don't think I've ever sobbed — sobbed! — so much out of both sadness and joy while viewing a program on TV. To see major issues in these characters' lives resolved one after another was satisfying and cathartic.
My one complaint is that the aging make-up in the show's final moments was completely distracting.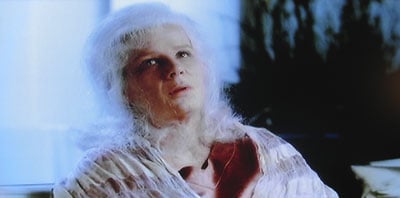 But what a risk.
A friend of mine wrote me this morning and asked, "Do you think the coda was 'real' or was it entirely in Claire's mind? As I think about it more, I think the makeup effects make more sense if they are how she's imagining – and accepting – their deaths with her own twisted sense of humor."
An interesting take on it. Please leave your thoughts on the show in the comments.
Also, that gorgeous song in the final scenes was "Breathe Me" by Sia. It's available on iTunes in the Six Feet Under: Everything Ends album.

ADDENDUM:
Many of you have been emailing me asking if I have a screencap of Ted's apartment. Here you go 😉