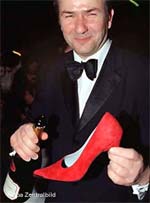 Openly gay Berlin Mayor Klaus Wowereit has come under attack for officially endorsing an international fetish party.
Said the endorsement: "Berlin is a tolerant and open metropolis. We are proud that people from different backgrounds and with different preferences feel comfortable here and party together… (Parties like Folsom Europe) allow the scene to present itself openly and break down skepticism and prejudice."
Deutsche Welle reports that daily newspaper Bild published several graphic ads for the party.
Bild printed advertisements for the festival featuring bare-chested men licking each others' jackboots and a man chained to a urinal and wearing leather briefs, boots and a gas mask under the heading "Perverts".

On the opposite page, the newspaper splashed a photograph from last year's party featuring a dog-collared sex slave kneeling before his leather-clad master.
Wowereit also gave a statement to the paper: "There's no question it is a flamboyant scene, but that is also Berlin. And as long as there is nothing forbidden happening, I expect tolerance."
Now there's an endorsement you won't see issued in America.