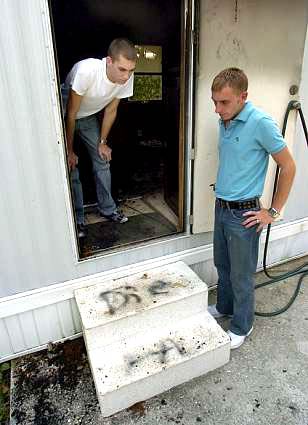 A few days ago I reported on a young gay couple outside of Orlando who had been victimized by arsonists who torched their mobile home and sprayed "Die Fag" on their doorstep. Here are two photographs of the victims, Chris Robertson and Paul Day, inspecting the damage to the place they once called home.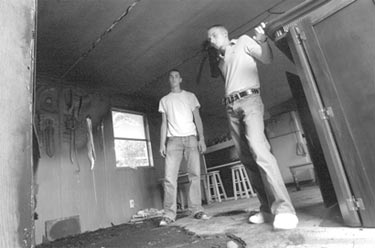 Belongings were stolen before the mobile home was set ablaze. The men are now living in an undisclosed location out of fear. Even with the evidence of the epithet, the crime "has been deemed an arson fire with an intent to burglarize" and not an anti-gay bias crime, according to Gay City News, with more details on their site. They also report that "Florida has a hate crime law that includes sexual orientation—along with race, color, religion, ethnicity, national origin—as a protected category. The law provides for an enhancement of a charge, in this case arson, if anyone is apprehended for setting the fire."
The FBI has been called on, but apparently can only investigate hate crimes based on race or religion, not those related to sexual orientation.
Thankfully, this couple escaped any harm to themselves. Hate is very much alive and well in this country.