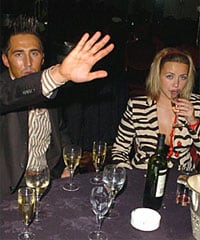 Towleroad's Welsh rugby obsession Gavin Henson pissed off "Voice of an Angel" girlfriend Charlotte Church when he told her that she'd be "the AbFab mother from hell," referring to Jennifer Saunders' overcocktailed character Eddie Monsoon. Church was holding a glass of champagne and a cigarette at the time so her protest didn't carry much weight.

Singer Damian Marley says references to "burning" homosexuals in reggae lyrics are metaphorical: "When they speak of fire, part of it comes from the deejay battling culture and trying to get an immediate crowd response at the dance. But another part comes from faith. The churches all speak against homosexuality. But you don't walk around Jamaica and see homosexuals hanging from the lampposts. It's a spiritual burning."

Don't miss Best Week Ever this weekend for an appearance by our blog peep Trent over at Pink is the New Blog! Pink is like a good shot of tequila every day. Congrats Trent!!

Arjan tunes us in to a free track from Norwegian pop princess Annie.

Does Apple have its own iPhone in the works?

The latest military recruiting bait: iTunes.