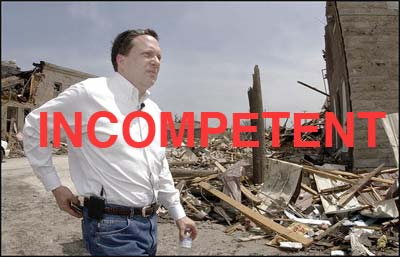 If you haven't already heard, before Michael Brown was FEMA chief, his job involved Arabian horses: "His job was to ensure that horse-show judges followed the rules and to investigate allegations against those suspected of cheating."
The latest news about this incompetent is that Brown waited until five hours after Katrina made landfall before summoning 1,000 Homeland Security employees to the Gulf Coast. He allowed them two days to arrive.
One of their jobs was to "convey a positive image of disaster operations to government officials, community organizations and the general public" according to a memo sent to Michael Chertoff.
Not rescue, not recovery. Public relations.
Blog Say Anything acknowledges, "FEMA isn't intended to be a 'first responder' to natural disasters. They are to be called in when needed by local 'first responder' agencies. It is clear, to me at least, that the leadership and emergency planning in the areas effected by this hurricane are wanting."
Yet, according to the AP: "Brown also urged local fire and rescue departments outside Louisiana, Alabama and Mississippi not to send trucks or emergency workers into disaster areas without an explicit request for help from state or local governments. Brown said it was vital to coordinate fire and rescue efforts."
Brown blames New Orleans Mayor Ray Nagin for not getting the people of his city out in time: "The mayor can order an evacuation and try to evacuate the city, but if the mayor does not have the resources to get the poor, elderly, the disabled, those who cannot, out, or if he does not even have police capacity to enforce the mandatory evacuation, to make people leave, then you end up with the kind of situation we have right now in New Orleans."
Unfortunately, Brown is the bigger dog, and he wasn't ready.
According to the Washington Post, "Brown's defenders say he is the scapegoat of a cataclysmic storm and failure of New Orleans's levee system that, in the words of President Bush and Chertoff, could not be foreseen."
The truth is: "Max Mayfield, director of the National Hurricane Center, said Brown and other top federal officials were briefed as much as 32 hours in advance of landfall that Hurricane Katrina's storm surge was likely to overtop levees and cause catastrophic flooding."
"They knew that this one was different," Mayfield said yesterday. "I don't think Mike Brown or anyone else in FEMA could have any reason to have any problem with our calls. . . . They were told. . . . We said the levees could be topped."
Among FEMA's other incredible failures:
On Tuesday, FEMA sent a plane full of 180 evacuees needing treatment to Charleston, West Virginia rather than Charleston, South Carolina by mistake.
FEMA has refused to ship 20,000 trailers sitting in Atlanta to the Mississippi coast until contracts are secured.
A state of the art mobile hospital, developed after 9/11 and outfitted with 100 surgeons and paramedics, is stuck in rural Mississippi until bureaucratic red tape is untangled.
The list of FEMA failures can go on for pages.
Ben Morris, Slidell mayor: We are still hampered by some of the most stupid, idiotic regulations by FEMA. They have turned away generators, we've heard that they've gone around seizing equipment from our contractors. If they do so, they'd better be armed because I'll be damned if I'm going to let them deprive our citizens. I'm pissed off, and tired of this horseshit."
See, his job does have something to do with horses.
Kate Hale, former Miami-Dade emergency management chief: "He's done a hell of a job, because I'm not aware of any Arabian horses being killed in this storm. The world that this man operated in and the focus of this work does not in any way translate to this. He does not have the experience."
Nancy Pelosi went to President Bush to discuss the Michael Brown situation: "If somebody is incompetent, has no credentials for the job that he holds, and that, I would say, is Michael Brown, the head of FEMA … then he should not continue in that job," Pelosi said after her meeting at the White House.
Asked Bush's reaction, Pelosi said, "the president thanked me for my suggestion."
Bush continues to put his cronies in charge of jobs they can't handle and refuses to hold anyone accountable for anything. Is this the man you want in charge when another terrorist attack hits a major American city? In that scenario, at this point, it's every man for himself.
Fire Michael Brown now.